Supporting Players
I have two daughters and a son.  My oldest, Daisy, is a Hospital Corpsman in the Navy. In May, 2013, while stationed in Guam, she met and married a fellow Corpsman, so I can add "Mother-in-Law" to my list of titles. Daisy is one of the boldest, take-no-BS people I've ever met.  Stubborn and beautiful and unlike anyone I know.  And Doug is a great guy. Seriously. Super nice and funny, and smart. He likes to make things from scratch too. Daisy and Doug are now stationed in North Carolina, where they also take care of my two grand-puppies and a grand-kitty.
My second child is Alyssa. She is my sunshine. Even though I sometimes bite my nails from nerves, I still love watching and vicariously experiencing her journey. She spent the last year living in North Carolina, then Seattle. She enlisted with the Air Force in April, and is currently at basic training in Texas. We are very excited for her, and so proud!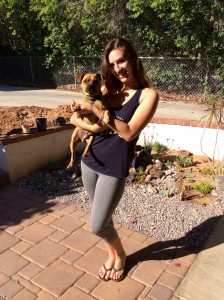 Alyssa with Biggie Smallz
Zander is my youngest.  He plays the guitar, sings, and enjoys Theater Arts and League of Legends. He graduated this June, and is seriously considering following in his sisters' footsteps and joining the military too. I think he mostly doesn't want to be alone in the house with his father and I.
My husband Joe is a lifesaver. Literally, though: he's a Firefighter Paramedic! (Ha! I was just waiting to be able to use literally literally!) He has been a professional firefighter for 20 years. He worked, studied,  trained, and finally earned, promotions to Engineer, and then Captain. I'm very proud of him and his accomplishments. His schedule also provides a great lifestyle for me: he's gone for 48 to 72 hours at a time. I get to indulge in cooking and experimenting with stuff he would NEVER go for. Hopefully I get the mess cleaned up before he gets home!
Let's not forget the most important members of the team, the reasons I get out of bed in the morning: (really, though; I have to let them out of their cages!) our dogs Biggie Smallz and Bella.  Spanky, the black and white one, died in October 2014. This is such a great picture of the three of them, though. I can't replace it yet.