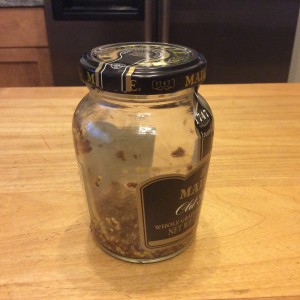 There's a pub in town called The Royal Falconer. When we first moved to our city, we lived in walking distance of this pub, and it was a frequent date spot. It's where I first met Scotch eggs.
If you've never heard of a Scotch egg, here's a quick description: it's a peeled hard boiled egg, wrapped in a thinnish layer of sausage, then deep fried. It may be common to serve them with whole-grain mustard; The Falconer does, and now I think that's how they should be eaten. But what do I know?
I love Scotch eggs. I don't visit the Royal Falconer often anymore, but anytime I eat whole grain mustard, the sour "pop" of the seeds reminds me of hot eggs and crispy sausage coating.
This morning, while preparing for the day, I was looking through the condiments for something to pep up my breakfast: two cold hard boiled eggs. Stuck in the corner of a fridge door shelf was an almost empty jar of Maille Old Style Whole Grain Dijon Mustard. I had bought it to make some coleslaw (that, by the way, was fantastic. Why? The pop of the mustard seeds! I love it!) The jar was expensive – over five bucks – and just enough to make two batches of coleslaw. Now there's a tablespoon of mustard malingering at the bottom of the jar.
I intended to cut the eggs in half, put a decent amount of the mustard on top of each, and pretend to be eating Scotch eggs. Maybe it would be reminiscent enough to be satisfying in that way we need food to sometimes be.
Didn't work. It was just cold boiled eggs with cold whole grain mustard. I'm trying not to be disappointed. I'll be alright.