I've noticed posts from friends on Facebook: school started for some kids this week. Wow!  Another summer in the can. Zander goes back next Wednesday. Although with his extracurriculars, it's not like he had a "free" summer. I guess it was better than having him hanging around the house all day, sleeping. His activities certainly interfered with my ability to hang around the house all day and sleep, though. Next summer I'll have better luck.
We did fit an "adventure" into our summer: we went to the Bay Area – Silicon Valley for a big-time water polo tournament.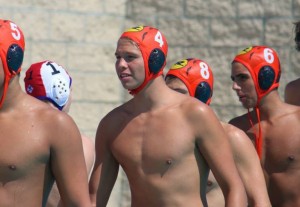 Joe and I missed the las two days of the tournament: we had a previously booked trip to Portland, Oregon!
I write that with a "!" because I was thoroughly excited about visiting this area of the Pacific Northwest. My family moved from San Diego to a suburb of Portland when I was in second grade –  around 1978. My family life was, in general, a toilet: it was functional, but you wouldn't want to live in it.   Luckily, I loved my school and I loved my friends. We lived in Aloha (a town right next to Beaverton, AKA Nike headquarters) for four years.  Then my parents got the opportunity to go into business for themselves, and we all moved to Colton, California.
Oregon was the greatest place back then. I don't know if he knew it, but my dad picked a house in the BEST neighborhood for kids to live. It was called "Cross Creek" and there really was a creek, stocked with tadpoles, that meandered through the neighborhood. There were bike paths with wooden bridges that connected the cul-de-sacs, so if you were running or biking you could get to your friend's house, or to the park, lickety-split. The (kid) neighbors on both sides of our house were, unfortunately, boys, but they were both my age; it seemed like every 5th house had a kid that was my age. When my step-mom Nancy sent my older brother and I outside, even if it was for punishment, it wasn't.
My school was heaven also. The teachers were great, I had friends that appreciated me, and I did well scholastically. Fifth grade was the stand-out year. My teacher was Mr. Smith. Not only was he a super nice and funny guy, and not only did he perform all the requisite things a teacher should, he had a speed-reading machine. Every day we would write in journals that we had made ourselves, and we would read short stories on the pull-down movie screen using that magical speed-reading machine. Guess what? It worked! I became a super-fast reader, and its effects were long lasting; I can still tear up a book in record time.
Learning how to read accurately and fast was a wonderful outlet for me. If my life needed anything, it was an escape. Discovering the pleasant business of reading provided that escape. I murdered the school library's fiction, and Mr. Smith's. I secretly borrowed "grown-up" books from my mom and dad's room. I read every fiction book I could comprehend, and most of those that I couldn't. Mr. Smith and his machine saved me.
Mr. Smith was a faithful friend, too. When I moved away, he sent cards and letters. (Oh, that unmistakable and practically illegible handwriting!)  He updated me on the big things happening in his life, like the births of his daughters. He sent pictures. He sent Christmas cards. He recognized my graduation from high school.
Unfortunately, when I left home, I stopped writing letters and lost contact. However, I never stopped thinking about Mr. Smith and his wife and two little girls.
Hey, wait! This was supposed to be a happy account of my trip to Oregon! You see, I may have lost contact with Mr. Smith all those years ago, but I knew his whole name, I knew he lived near Portland, and I had the Google at my disposal.  About 8 years ago, I looked him up, found an address, and wrote a letter. Of course, my faithful friend wrote me back immediately.
It turned out that he and his wife would be driving to Carlsbad, California – a trifling two hour drive from my house – the following week. He invited me to bring my kids down for a visit. And ever since, I have been overwhelmed with Mr. and Mrs. Smith's generous nature. I get to call him by his first name, Bob, now that I'm grown up. Bob and his wife Lynne would contact me if they were coming to SoCal, and they made time in their trips to visit us and take us to dinner. They write at Christmas. They remember my kids. They have spoke with me about personal things, advice they shared that I took to heart because I respect them and believe what they say. They are a blessing.
Last week, Joe and I got to see them on their home turf. We saw the garage that Bob said they were building, which was really a big addition to their house. (It does contain a garage, so he wasn't lying.) We saw their neighborhood, which is more like green rolling hills,  farms and fences, with streams running through. They took us out to dinner, even though it was really our turn to pay. Bob gave me a magical pair of reading glasses that fold like origami into a tiny case. He also gave Joe two pair of Italian-made dress shoes that he can no longer wear. Along with the shoes came a great story. Since Bob and Lynne will hopefully read this, I want them to know that the FIRST thing Zander did when we got home was pounce on the shoes and claim a pair as his own. We've been back for one week and he's already worn them out to two dinners.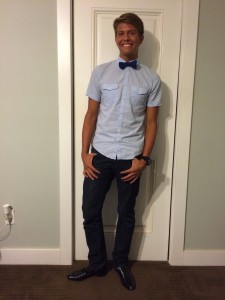 It is a very good idea to maintain contact with those people who cross your path, who you know simply love you. I knew, when I wrote the letter to Mr. Smith after so many years of nothing, that if it got to him and he was still on Earth with us, he would write me back. This is a wonderful thing to carry in my heart.
On our trip, Joe and I got to see a lot of Oregon coastline, and we drove along the Columbia River to Portland. We saw the Smiths, hiked to the top of the second largest waterfall in the United States, and visited a ridiculous donut store with a cult following that had a line outside like it was a ride at Disneyland.
We also went to Aloha. It's been over 30 years since I saw my school, my neighborhood, my old house. I felt like a horse who knows his way back to the barn. And everything looked the same! Of course the trees are bigger or they're cut down, there are new housing developments, and signs at the school written in Spanish. Times change.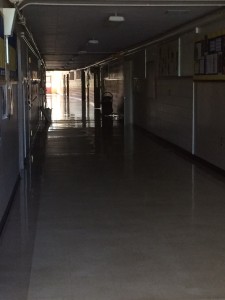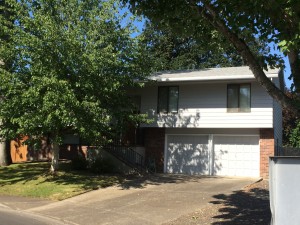 Some things don't change, though; there were two kids at the park, bent over at the edges of the creek. I know they were catching tadpoles.