Do you believe in making New Years' resolutions? I typically don't. I don't want to adhere to a particular date in order to set a goal. Instead, I set them and readjust all year long! However, I do desire to eliminate something from my character: I make excuses for not doing something difficult. But I tell the students I spend my workdays with that just because something is "hard" doesn't mean it's not worth mastering. So, I set a personal challenge for myself that will take work and failure on my part. I am learning to be ok with the failure because it means I'm learning something valuable.
I have determined to learn how to draw well. I have figured out how to paint, but I really feel the desire to create a painting that I developed from scratch. I currently use a projector to outline my subject, usually a dog's adorable face. The thought of actually drawing it myself is artistically paralyzing.  I received the book "Drawing on the Right Side of the Brain" for Christmas. I've done the preliminary exercises in the last two days. I see promise, but it is going to be a difficult skill to master. So what, though, right? Just because it's hard doesn't mean it's not worth it!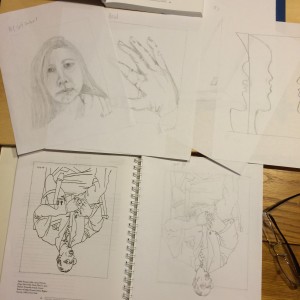 I go back to work tomorrow, Zander goes back to school, and Alyssa is starting a new semester of college. I had a great break, though. I don't know about the kids, but I'm ready to go back to work. I love our school district. A few years ago, they implemented a modified traditional schedule. School starts earlier in the summer, but we get the week of Thanksgiving off, THREE WEEKS at Christmas, and two weeks in the spring. Instead of rushing to get everything done in a short period of time, we get to actually relax a little bit before going back to our normal lives. This year,  we actually vacated during our vacation!
So after the madness of the holidays subsided, Zander and I flew to Raleigh, North Carolina, to spend some time with Daisy and Doug. (They are now stationed in Camp LeJeune.) We saw Raleigh, a bit of Durham, Wilmington, the Crystal Coast, a Civil War fort, and lots of countryside.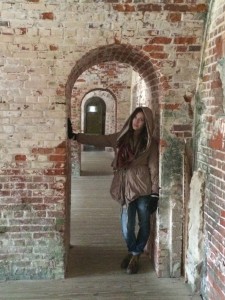 Zander is convinced that he will never live in the country; too boring. I think it was just a matter of this stage of his life: he can't drive a rental car, can't drive through the military gates for housing or the base, can't go into a bar…  However, the worst part: THERE WAS NO WIFI. So he had me nagging him the whole time to slow his roll on using the wireless data.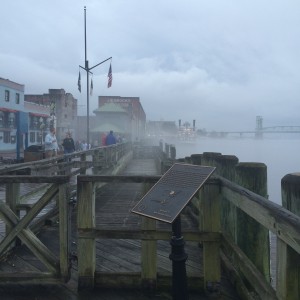 I, however, love North Carolina. Alyssa and I visited Chapel Hill and Atlantic Beach a few years ago during the summer, which was terribly hot but still so charming. Seeing it all in the winter was a treat. The weather was manic (not too much different from SoCal – but when it got cold, it stayed cold even during the day. And by cold, I mean it was in the teens. Whoa!) I agree with Daisy and Doug, too, that Wilmington is a great little town.
Because of work schedules, Joe and Alyssa came out later than Zander and I. They stayed later, also. They are coming home today. I'm just glad we all got to spend some time with Daisy and Doug. I have a feeling that Alyssa and Joe had a lot more fun than Zan and I did. There were definitely more pub dinners during their visit.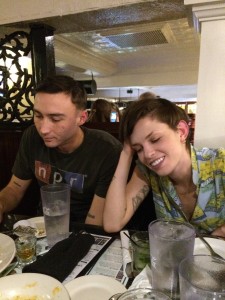 I learned some things during this trip.
The first is that iPhones come with a podcast app, and there are some really great podcasts out there. I'm not so much a music person, and tend to listen to talk radio during my downtime. I usually stream a Los Angeles talk station, but I had limited data during this trip, so…. I loaded podcasts! And listened to the entire season of NPR's "Serial" which I LOVED. There is also a Freakonomics Radio podcast, This American Life, and a new one called Upvoted. It tells the background story to reddit's most upvoted posts. Fantastic! I can now avoid the bad news, negativity, and commercials that bother me so much on the radio.
The other is that North Carolinians do NOT skimp on their toilet paper. In every public restroom and hotel room, the toilet paper was the good stuff, thick and soft. Even in the gas station restrooms! I'm wondering if this is somehow related to Southern hospitality. I may do research and travel to more states while paying attention to this small but important detail.
Happy New Year, y'all!